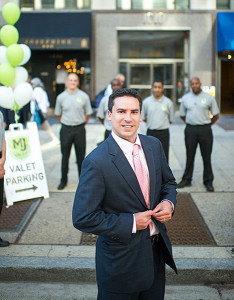 Michael Jasser began his parking career while attending the University of Maryland in 1998.  As a part-time valet / college student, he enjoyed the excitement of providing services at top-notch events while incorporating his personality to bring smiles to peoples faces.  "I realized this was an area I could apply my organizational skills, along with the creativity of knowing no two events are alike to excel and truly enjoy what I do.   I love creating custom solutions and seeing the end result of a happy client at the end of the day", says Mike.
In 2004 Mike co-founded a local valet parking firm, developing a reputation for personalized, detailed service in an industry that was starving for top-level parking services.  "Valet Parking was always the ugly step-sister of the events industry in DC, until we found Mike.  He truly revolutionized the valet business to ensure the level of service outside the venue matched what was happening inside", said a client of Michael's.
In 2012, MJ decided it was time to go out on his own and apply his 15+ years experience in the parking industry to provide the level of service that clients have come to expect from him. Providing first-class services for now over 1,500 events per year, MJ Valet is an industry leader building a team of over 150 people-driven staff. We understand 5-Star first and last impressions to make all guests feel like VIP's. Feel free to contact Michael directly at 202.587.2745 or mjasser@mjvalet.com to find out more about MJ Valet and to experience the first-class service they take such pride in!